Your insights dashboard empowers you with real-time data about what's happening with employees at different stages in their journey and how they are being engaged on the platform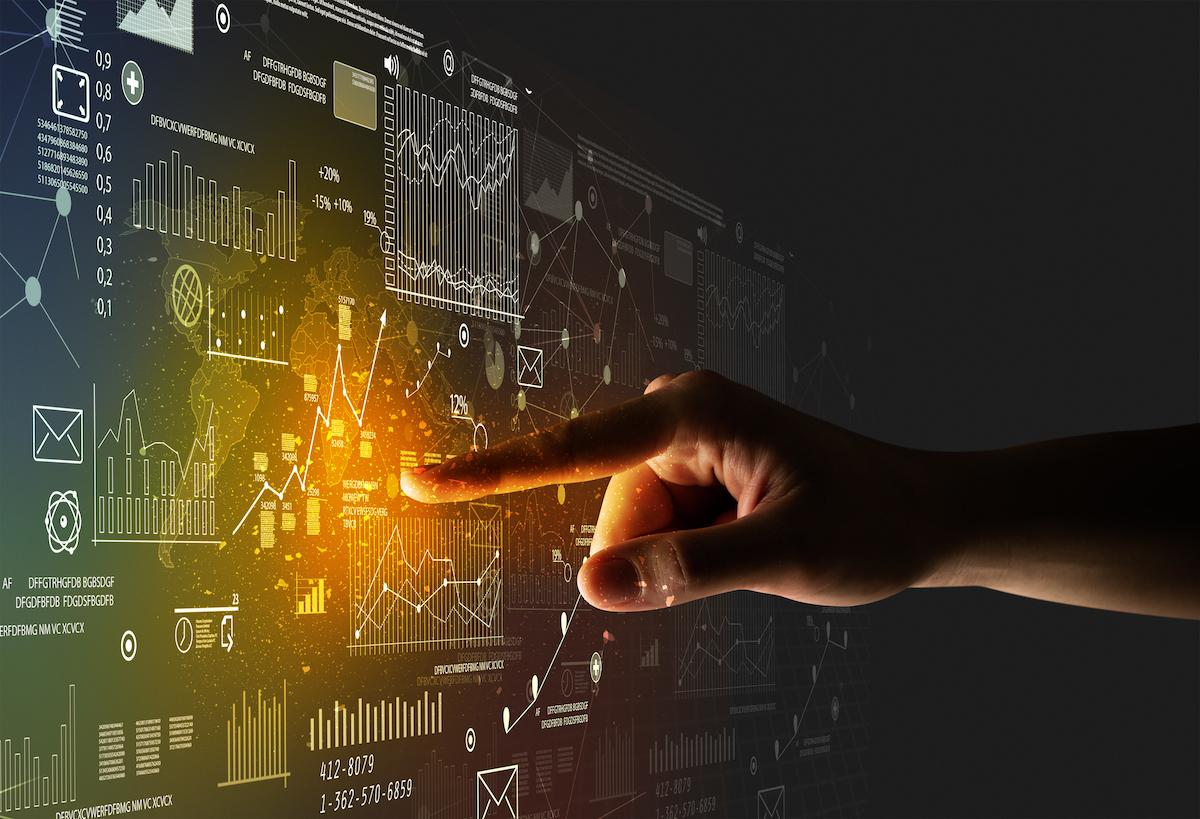 The tab provides you comprehensive insights into your company, campaigns, and employees. With powerful data about your Employees, Managers, Recruiters, and Campaigns at your disposal, you now have to simply act on it and make decisions that help you to engage and retain your employees.
Here are some key features of our insights:
Real-time : Gone are the days where you get reports with complex metrics and graphs only when you request it. Tydys' insights are always available online with the most up-to-date stats that matter.

Proactive Signalling: Data can only help when one can add a layer of meaning to the underlying data. On Tydy, behavioral data is constantly tracked and translated to signals such as employees slipping away or becoming inactive, etc.

Measure Manager & Recruiter Success Rates: Along with monitoring progress and performance of employees, Tydy's insights allow you to keep a tab on managers and recruiters as well who play a major role in any employee's success in an organization.

Track Employee Engagement: Engaged employees are happier employees and they are also the ones that perform better. By understanding how employees interact with specific content (participation in questions vs. content), and behave (response time, device used, etc.) on Tydy we can create more engaging campaigns. In the long run this helps in getting to know what makes your employees tick, better.

Monitor Your Campaigns: Content is the backbone of Tydy. Companies are careful about choosing the content that needs to be delivered. With Tydy's insights, you are always aware of how successful each campaign is, its average completion and engagement rates. This allows you to edit, update, or delete campaigns before it is too late.
---
The Insights section is made of a few sub-sections:
Highlights
The Highlights tab provides you with the highest level of information about the activity of your company on Tydy. This includes a snapshot of a number of employees on the platform and the various stages they are at in their journey as employees. This is also where you can show signals of behavior that help admins take action. We currently show 3 employee signals: Haven't Logged In Ever, Slipping Away, and Inactive. Also included on this page is the ability to scroll down to get a quick summary on the campaigns such as active campaigns, employee reach and average completion rate.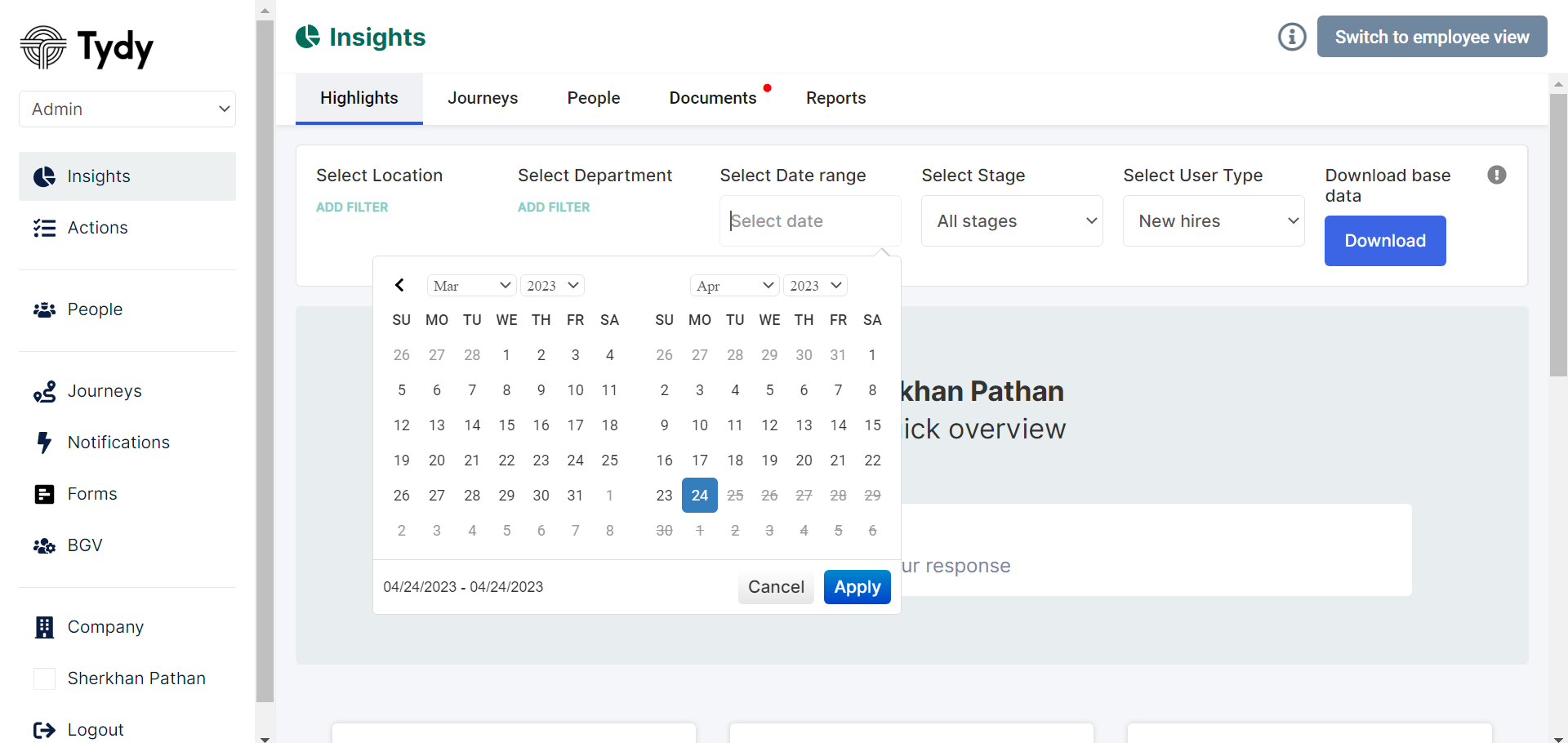 Downloading the Base Data
As mentioned above , you can download the base data of your organization , Login to Tydy with admin access and go to
Insights Section.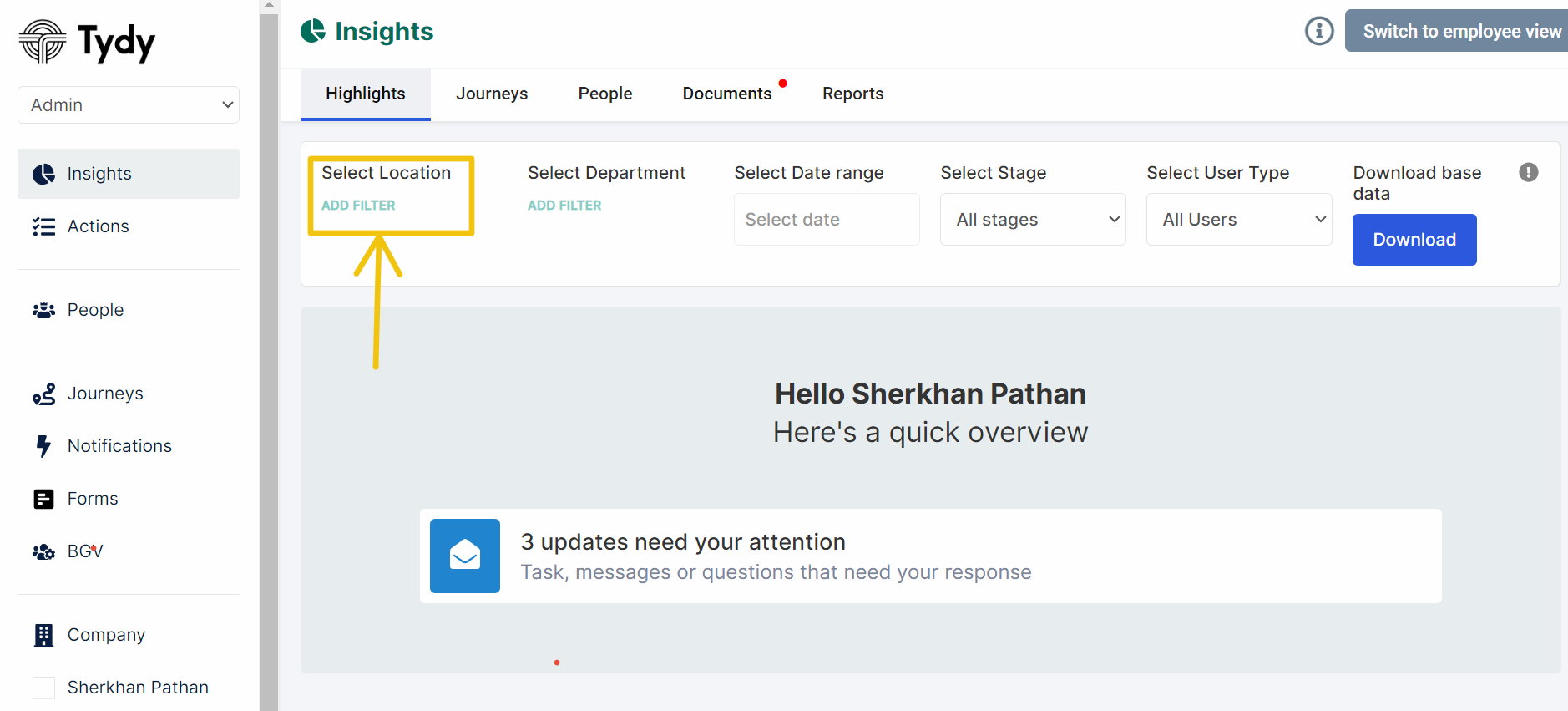 Add the filter based on your requirement and click on Select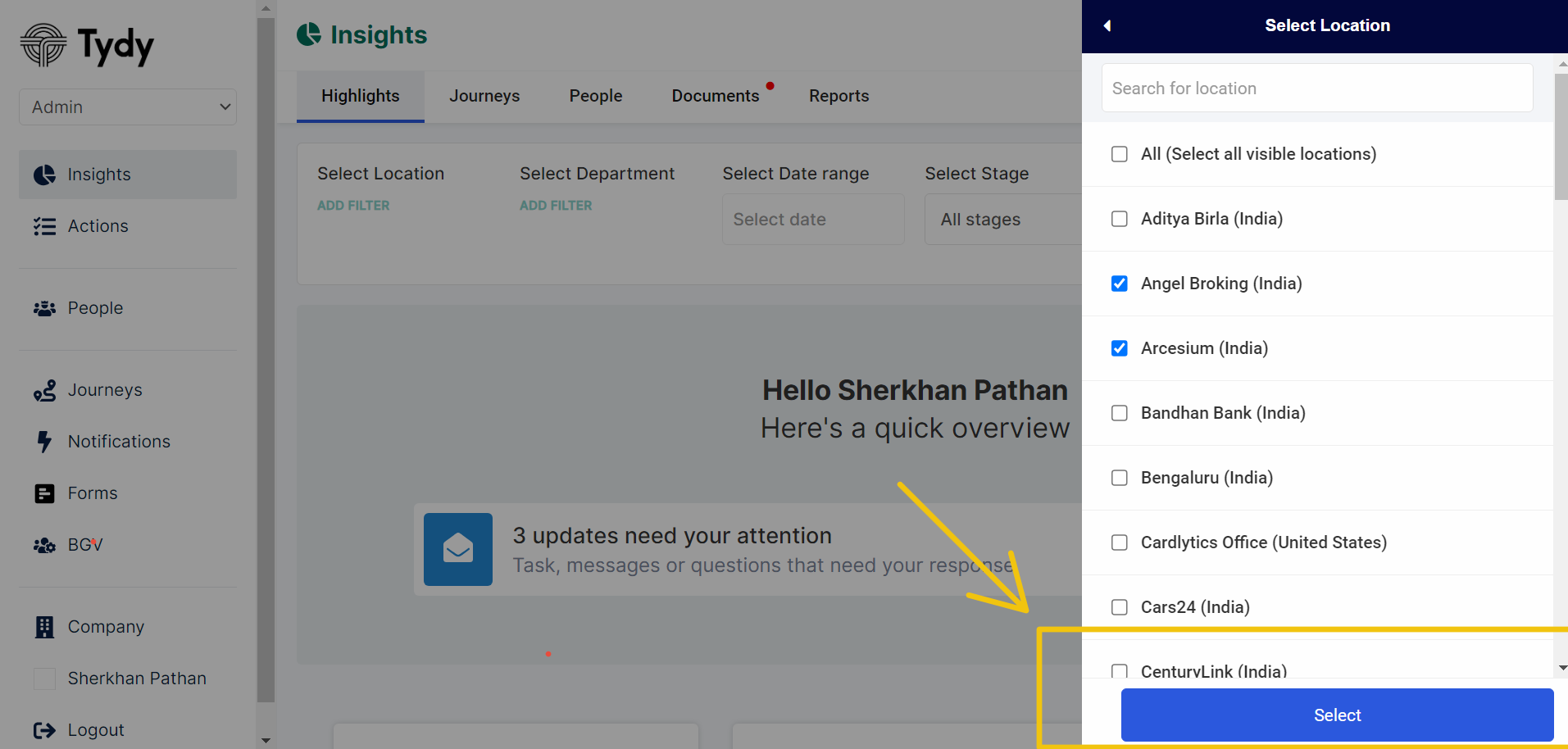 Similarly select the filter for Department and add the date range. Once done Click on Download button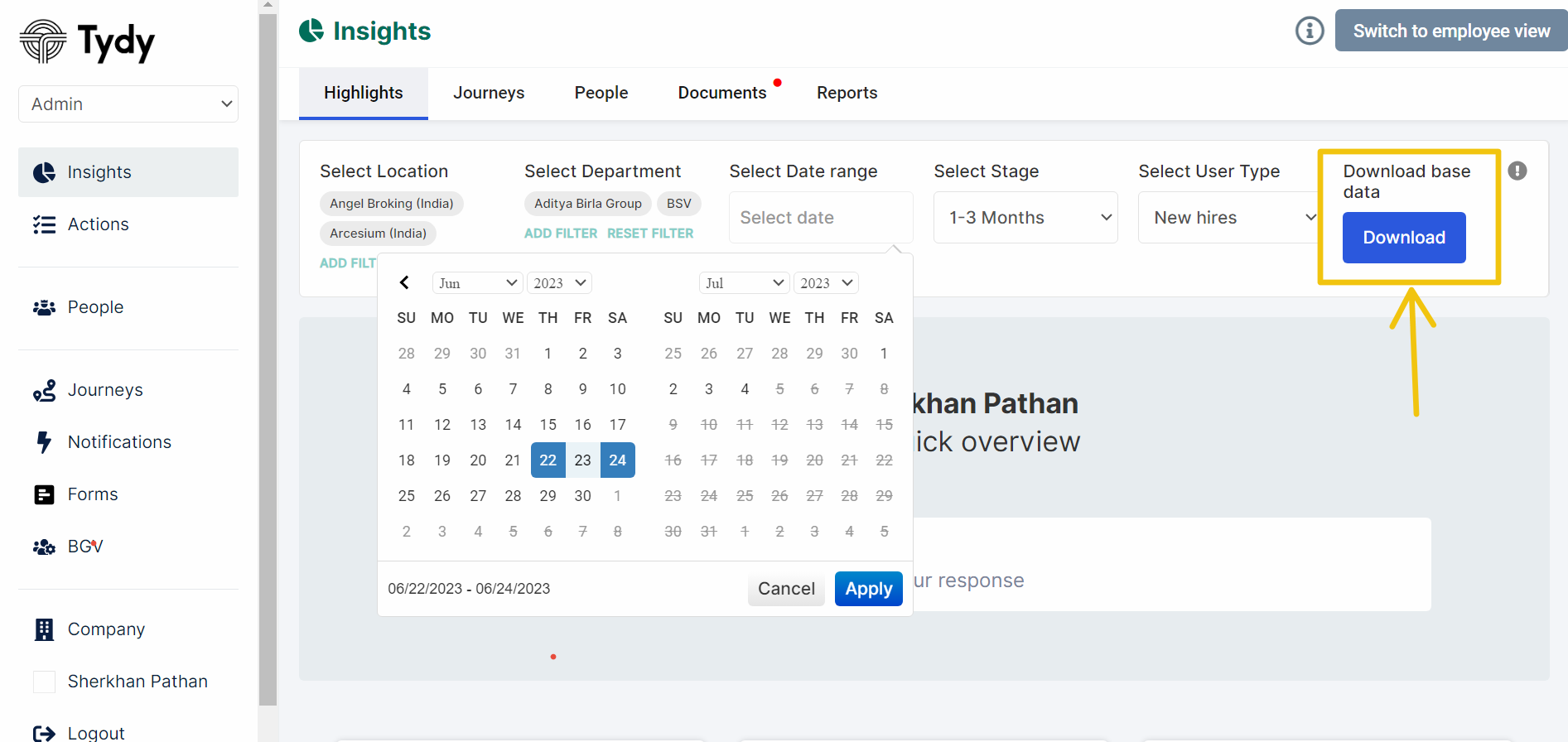 The
Base data
report will now be downloaded to your device.
Journeys
The primary way for us to track employee engagement is by tracking responses to the content delivered to them via Journeys. Journeys over here will give you the insights of engagement of employees with respect to individual campaigns and their average completion rate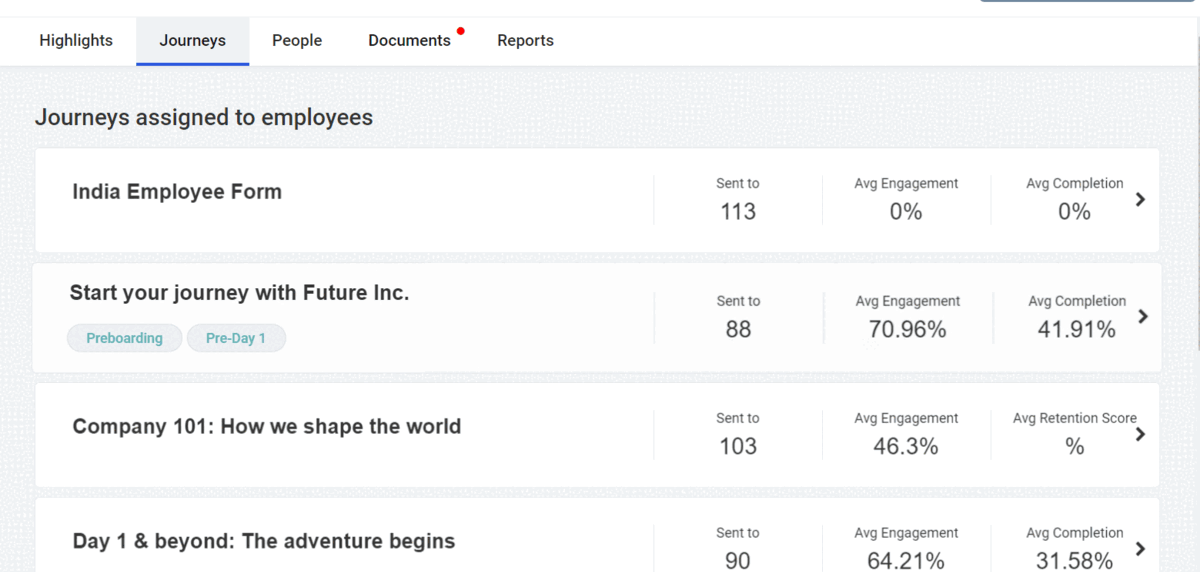 Journey Insights
Login to Tydy and click on Journey Tab present in Insight Section.

Over here Select the journey for which you want to view the report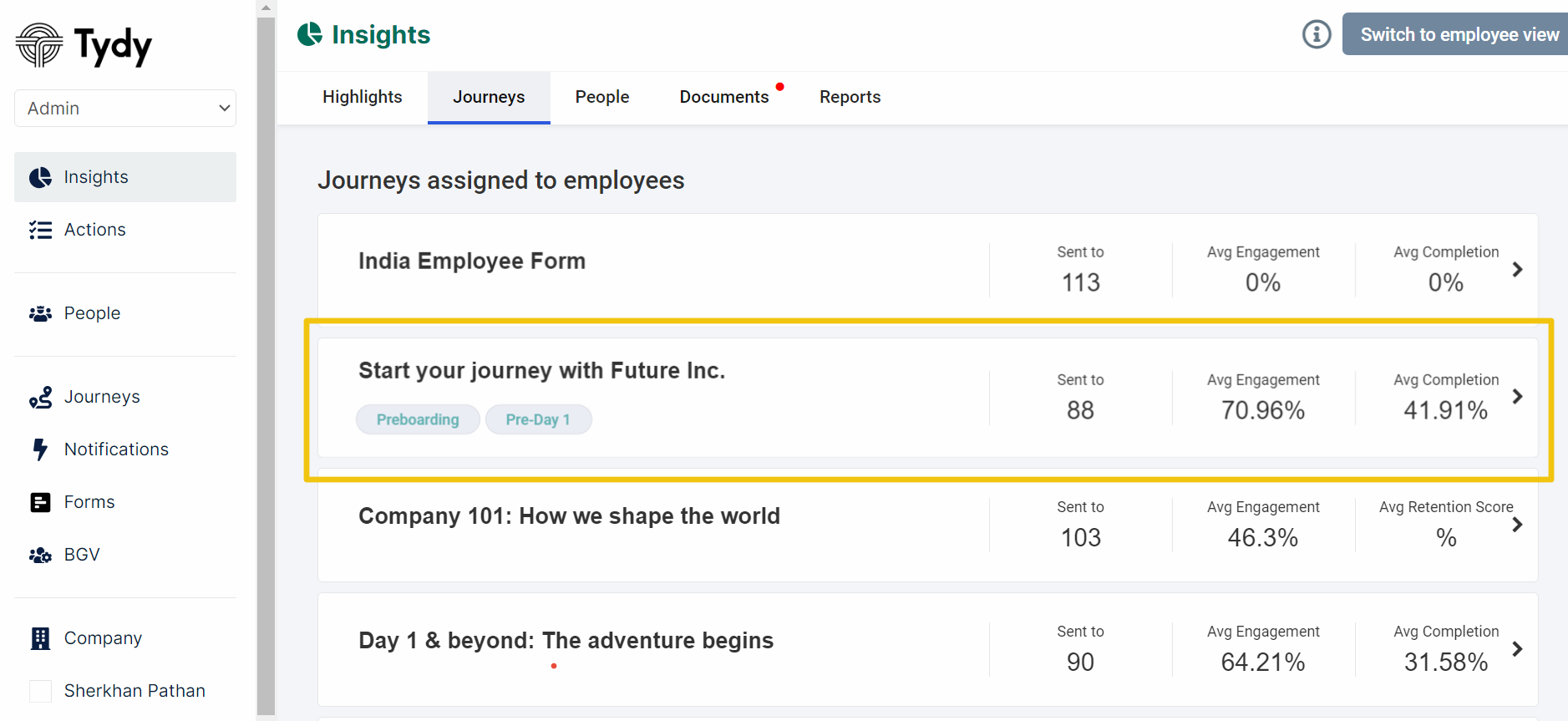 Filter for the location an Department for which you desire to view the report as shown.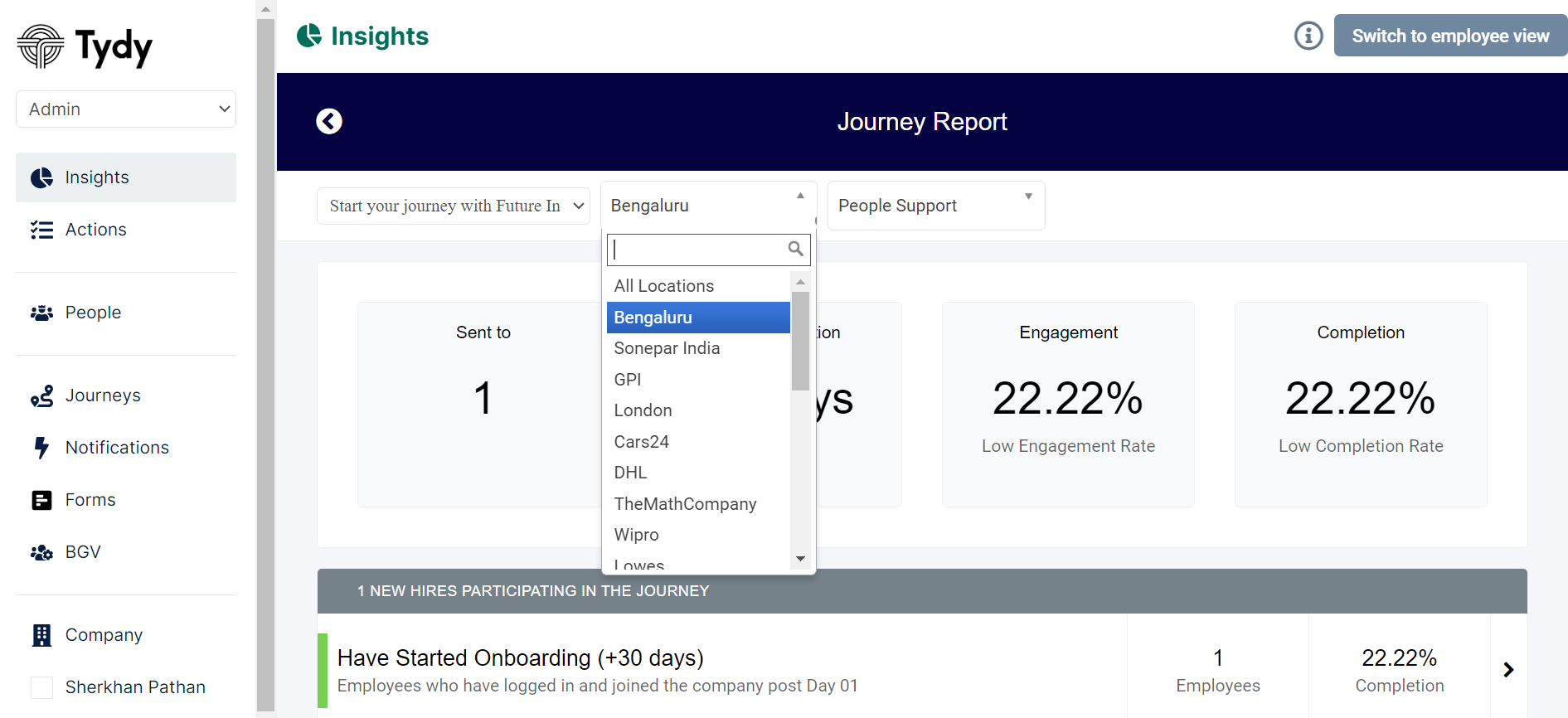 Now you can get to the Deep Insights of the Journeys and see the engagement of the employees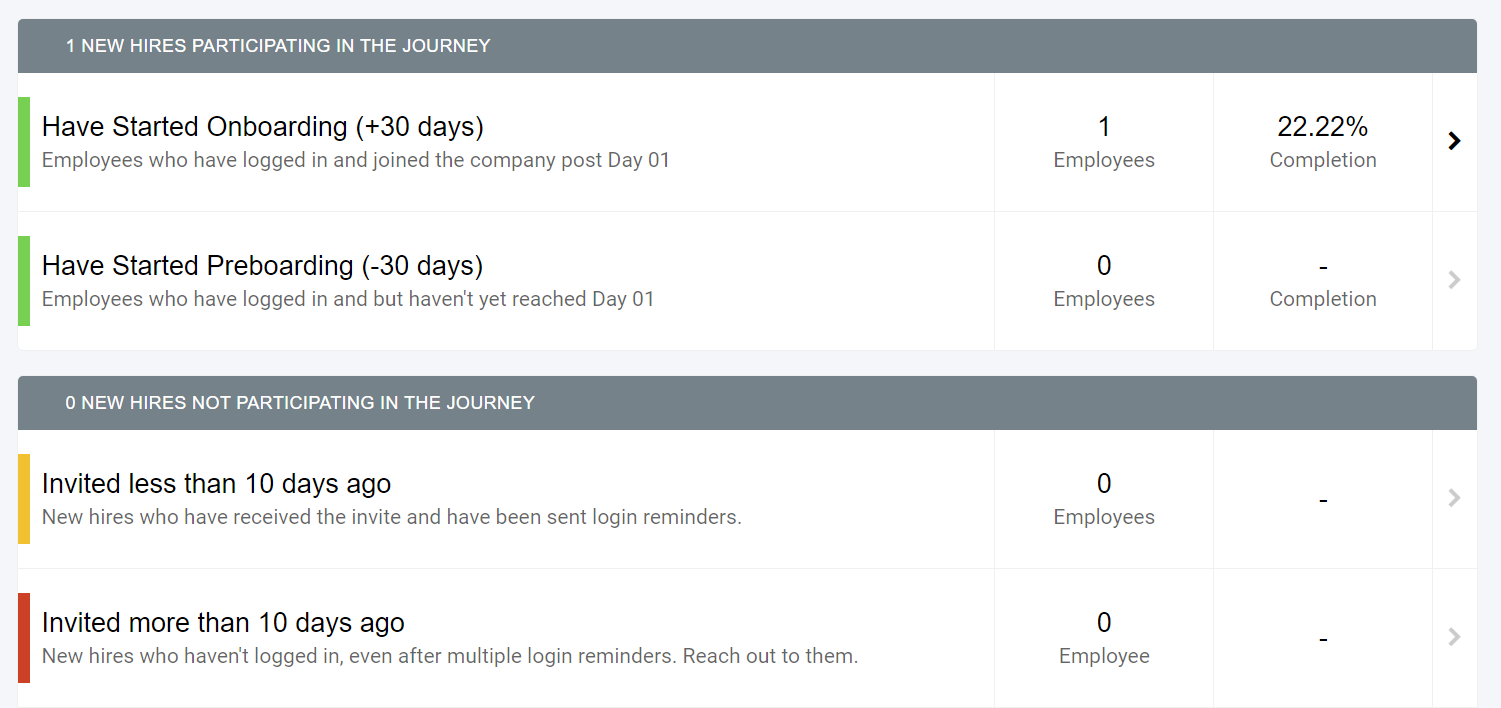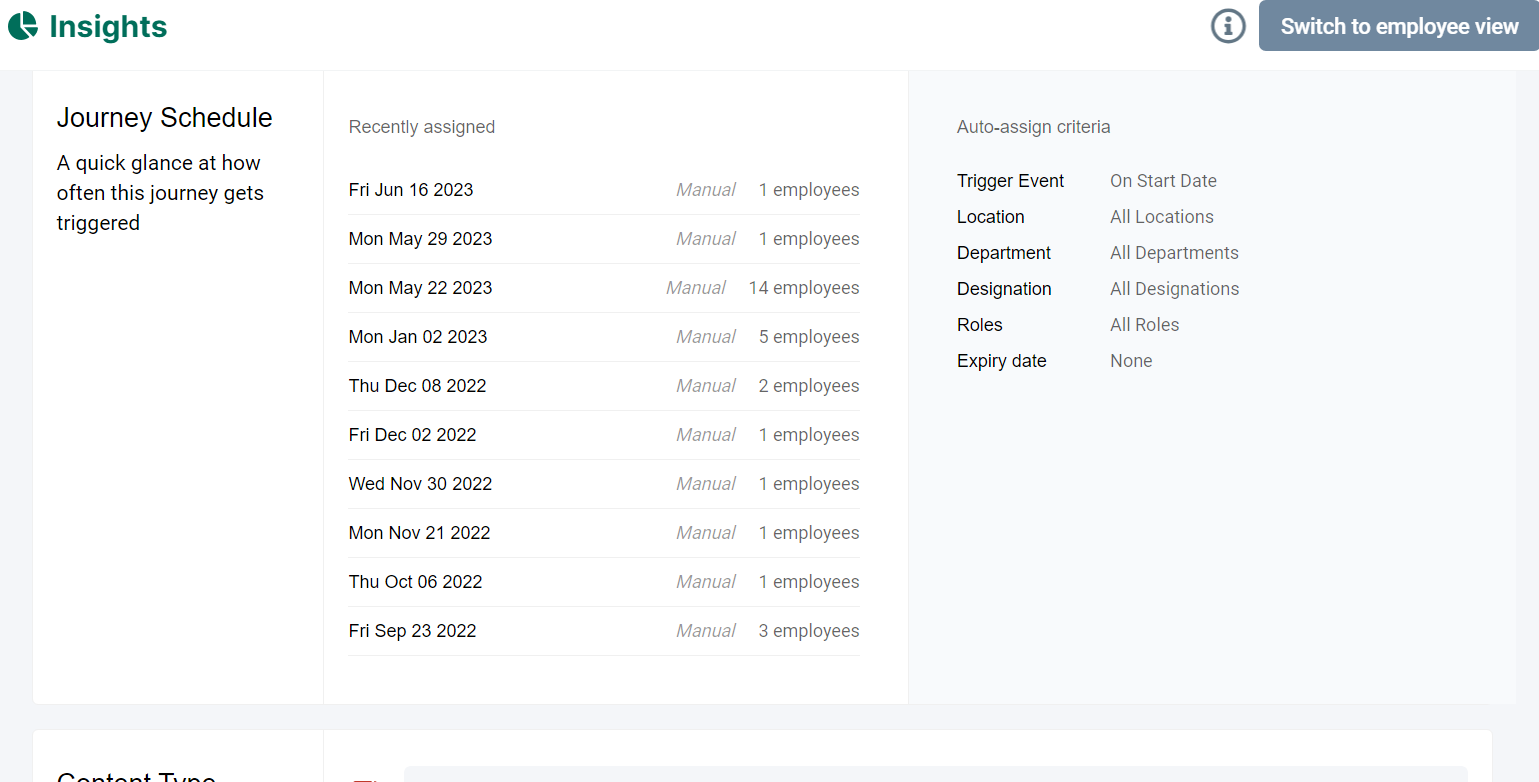 View
Journey Reports
through the below Video
People
Everything we do revolves around the people who work at the company. You can dive deeper into understanding each employee's journey and performance on the platform. With vital stats like last active, the number of pending levels, and content pieces, you are in a powerful position to understand when and where you started to lose an employee and can take necessary steps to re-engage employees that are slipping away.

Over here you can easily download the
Application Report
for the desired candidates.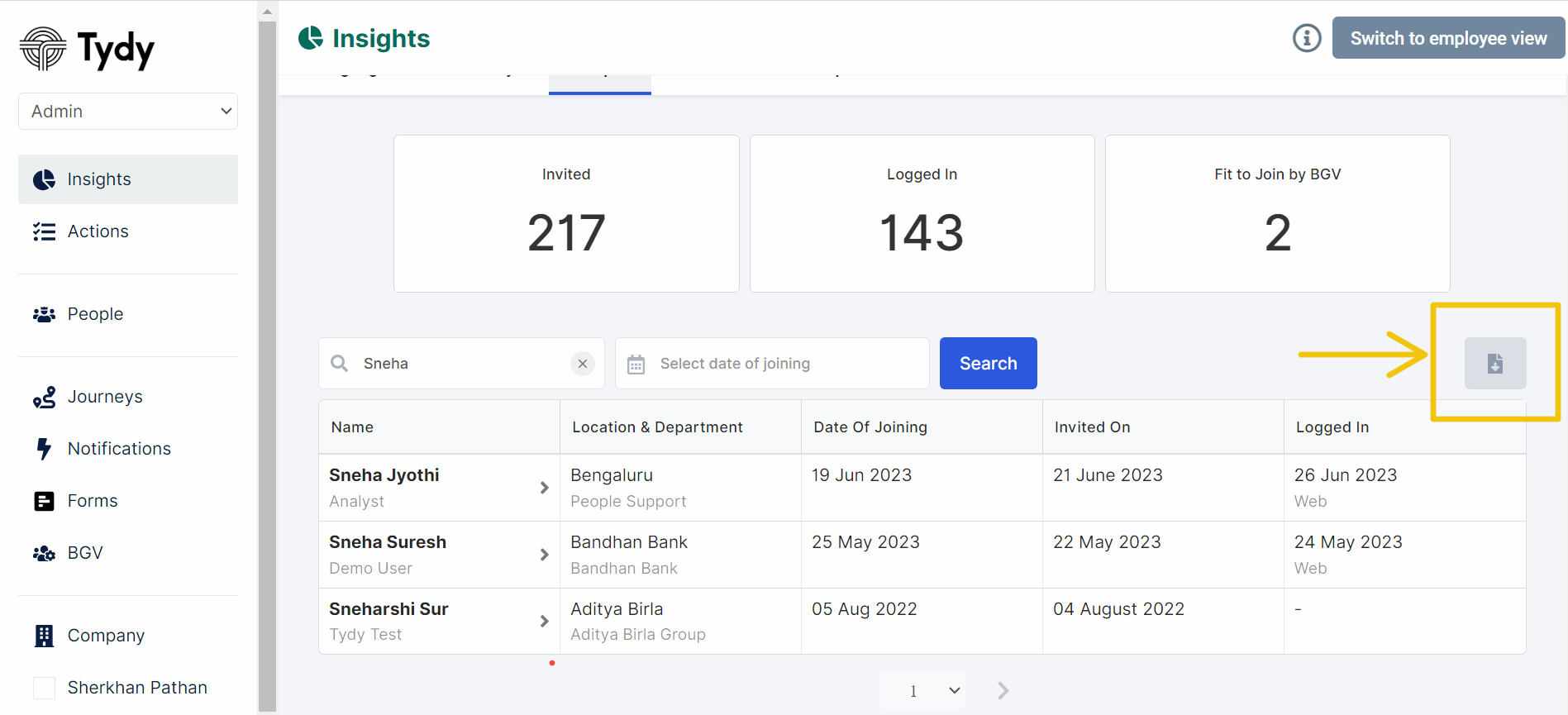 Approve and Reject Documents for the Candidate